On the ice, business is cut-throat. Goals scored in the blink of an eye, penalty boxing, and the occasional brawl are all ingredients for a memorable hockey experience. Genuflect on that feeling while stacking coins and connecting paylines at the Break Away online video slot, the host of this upcoming 3k '3-Day' Survivor Tournament. The Break Away's hockey-themed layout is quick to bring back the supercharged hyper-awareness that comes with a close-fought duel in the rink.
THE TOURNAMENT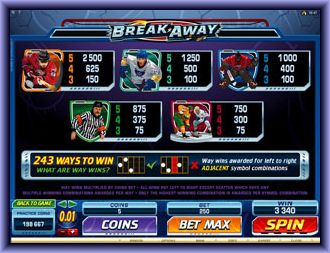 Check your schedule. What are you doing on 2015/10/24? If the answer is "nothing", mosey on over to register for this lively, fast-paced online slot tournament. Registration ends after the finalization of the 1000th applicant, so timeliness is essential when it comes to securing a seat. Entry fee is 12 EUR, and must be submitted before admission to the tourney.
THE GAME
The Break Away is as dynamic as it is impassive, as bold as it is nuanced. This fusion of opposites enhances the gaming experience, which is already heightened by top-notch sounds and graphics. Icons of helmets, players, referees and more are splayed across the games 5 reels. Specific features of this slot include:
Watch the puck! Get a multitude of free spins!
Rolling Reels bonus is also available through Scatter!
Smashing and Stacked Wilds manifest endless winning possibilities!