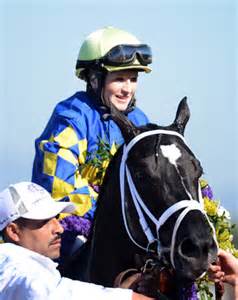 ESPN reports that Shanghai Bobby will participate at Belmont Park on Friday, September 20. This race will be the now-3-year-old's first after a five-month layoff.
Shanghai Bobby
Shanghai Bobby is owned by Starlight Racing, trained by Todd A. Pletcher and previously ridden by Rosie Napravnik. In 2012, he came in first in the Grey Goose Breeder's Cup Juvenile and was ranked ninth in earnings for 2012 overall. There was great anticipation heading into the Kentucky Derby and Triple Crown Races, but after the Florida Derby, Pletcher announced that Shanghai Bobby's energy level was not where they expected it to be, so they chose to rest him instead.
Disappointed Fans
The decision by Pletcher was one of the great disappointments of the season for race fans. Nevertheless, Pletcher has an impeccable reputation, and it's better to play it safe with a young horse than ride him too hard. Shanghai Bobby had been riding for 13 months before the layoff, which is outstanding, and it's not unusual for a young horse to need some time off even sooner than that. It was also later revealed that he had suffered a pelvic stress fracture, which he has now fully recovered from.
Belmont Park
For those anticipating Shanghai Bobby's return, five months has seemed like a very long time, but the wait is finally over. Shanghai Bobby was unbeaten as a two-year-old, and will now compete in a race that is reserved for three-year-olds. The $100,000 Aljamin overnight stakes is 6.5 furlongs.
Shanghai Bobby has been training at Saratoga, and Pletcher says that he is very pleased with his health, energy level and performance. Some insiders expected a bigger splash than Aljamin for the return, but Pletcher said it was important to start him off on a positive note, and Shanghai Bobby clearly enters this race as a heavy favorite. An interesting note, however, is that this will be Shanghai Bobby's first spring since the Three Chimneys Hopeful, and he'll be ridden by Hall of Famer John Velazquez for the first time.
A Strong Indication
During an interview earlier in the week, Pletcher said that Shanghai Bobby was not only back to form but perhaps better than he had ever been. A reported questioned why then a race like Aljamin was necessary, and Pletcher responded that there's no better indicator than a race. If everything goes well Friday afternoon, then fans can look forward to Shanghai Bobby making a lot of noise in upcoming events.